Soddy Mountain
Site Directions: Take Hwy 27 North from Chattanooga for approximately 20 miles. Hwy 111 will split left and take Hwy 111 to the top of mountain. Jones Gap Road will be your first left once atop the mountain. Follow Jones Gap Rd. for 1.9 miles until the main road bares right and Jones Gap Rd goes to the left with a Dead End sign. Do not continue to go right on Burchard Rd. After making the left off the main road while staying on Jones Gap Rd, go 0.2 miles to the dead end. Park on side of the road, climb a 6 foot bank and you are there.
Lat-Long: 35.32395, -85.162248
Hours: daylight hours
Seasonality: year round, but fall (Sept and early Oct) is best
Fees: none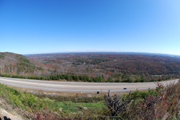 Panoramic view from the hawk watch at Jones Gap Rd.

Site Description: The hawk lookout is located on the eastern face of Walden's Ridge (the Cumberland Escarpment) at the eastern terminus of Jones Gap Road atop a bluff overlooking Highway 111 and the Tennessee River Valley to the east. The hawk lookout proper is level ground, but the bluff is 75 feet high. The hawk lookout location is state-owned land, and there are currently no restroom or eating facilities nearby.

Wildlife to Watch: This is the premiere established hawk watching location in Tennessee. The site is the only hawk lookout in Tennessee that has ever been monitored for the entire migratory seasons of both spring and fall. Prior to the establishment of this lookout, many Tennessee lookouts were monitored only mostly in September. Soddy Mountain has been monitored 1993-2005 for fall hawk migration from September to early December. Spring hawk migration monitoring has been less frequent and in the period February through April. Broad-winged Hawk, Turkey Vulture, Red-tailed Hawk, Sharp-shinned Hawk, and Black Vulture are the five most common species in fall.

For more information:

Tennessee Ornithological Society - Audubon Important Bird Area web page

Tennessee Ornithological Society - Hawk Watch bird totals


Submit your data to eBird and help us build a list of birds seen at this site


Be sure to check out our Safety Tips page for important information regarding viewing wildlife in these areas.