Critter of the Month
Critter of the Month - APRIL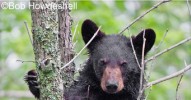 AMERICAN BLACK BEAR
The American Black Bear is the largest carnivore in Tennessee. Truly an omnivore, these bears eat a variety of food including berries, small rodents, frogs, bird eggs, seeds, acorns, grass and insects.
Primarily found in heavily wooded areas in the Appalachaian Mountains and along the Cumberland Plateau, black bears den in hollow trees, caves or even holes in the ground. Females give bird to an average of two cubs in the winter den. At birth the cubs are blind and weigh about 1/2 pound. Cubs open their eyes at 6 weeks of age and emerge with their mother in spring.
The Black Bear population has steadily increased in Tennessee since the 1970's due in part to careful management practices. They are a hunted species in our State however the most serious threat to them is deliberate or accidental feeding by humans. This unfortunately hibituates them to humans, ultimately causes safety concerns which can result in the bear being destroyed.