Meeman-Shelby Forest WMA and State Park
About 12 miles north of downtown Memphis, TN
Millington, TN 38053
(P) 901-876-5215
Site Directions:
To Headquarters: From Memphis, take TN Highway 388 north until it dead ends. At the dead end, turn left and go 1 mile to a four-way stop. Look for the Shelby Forest General Store. Turn right, go 1 mile and then take a left turn into the park. Signs are provided to assist finding the park.
To Eagle Lake via Island 40 Rd: Eagle lake may be accessed from the southern end of Meeman-Shelby State Park by taking Island No. 40 Road off of Benjestown Road. To get to the site from Memphis, take TN Highway 388 north until it dead ends. At the dead end, turn left and go 1 mile to a four-way stop Look for the Shelby Forest General Store. At this point take Benjestown Road south for about 3 to 4 miles to reach Island No. 40 road. Turn right on Island No. 40 road and follow it to a point where it turn abruptly left (about 1 mile). At the turn, there is a gate leading into the forest that controls access to a poorly maintained gravel road that leads west to the lake.
Visitors Center- Lat: 35.34387°N Long: -90.03268°W
Eagle Lake- Lat: 35.0548°N Long: -89.5399°W
Hours: 7 AM to 10 PM
Seasonality: All year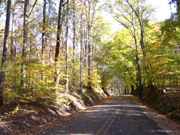 Fall colors through Shelby Forest WMA.

Site Description: The site consists primarily of some 13,467 acres of upland and bottomland forests. Two thirds of the park contains bottomland forests of oak, cypress, and tupelo. There are two man-make lakes in the uplands and some natural lakes and wetland areas in the bottomlands. Many miles of hiking trails, a 5 mile long biking trail, and a paved road network provide access throughout the park. The upland forests sit atop the Chickasaw Bluffs on deep deposits of loess. The park hosts one of the finest arrays of plant and animal life in Tennessee. A boat launch into the Mississippi River is available.

Eagle Lake is a site "off the beaten track." It is a floodplain lake surrounded by cypress swamp and dryer bottomland hardwood forests. When accessing the site you must pass through some beautiful loess bluff upland forest. Access is by a poorly maintained gravel road. There is a gate at the entrance on Island 40 which is open on an irregular schedule. The gate is closed during high water in the bottoms.

Wildlife to Watch: Some 200 species of birds have been reported from the area. The wide variety of habitats present insures year round opportunities for birding. Deer and turkey are abundant. Barred Owls are abundant across the bottomland forests. Cerulean Warblers are common breeding birds on the bluffs near the dropoff to the bottomlands. Swainson's Warbler are uncommon in cane thickets on the gravel road past the TWRA Check Station.

NOTE: Please refer to TWRA Hunting Guide about hunting seasons and public access dates. Access dates vary by site. hunt days are Monday, Wednesday, and Saturday.


For more information:

Meeman-Shelby Forest WMA and State Park map

Tennessee Ornithological Society - Audubon Important Bird Area web page

Birds of Meeman-Shelby Forest from eBird submissions

Submit your data to eBird and help us add to the list of birds seen at this site


Be sure to check out our Safety Tips page for important information regarding viewing wildlife in these areas.