Percy Priest Lake, Seven Points Recreation Area

Site Directions: Take I-40 East from Nashville and take Exit 221B - Old Hickory Boulevard. Turn right (south) on Old Hickory Boulevard and travel approximately 1 mile to a stop light. Turn left on Bell Road and travel approximately 1 mile to another stop light. Turn right on New Hope Road and travel approximately 1.5 miles through one stop sign a "T" at Stewarts Ferry Pike. Turn left on Stewarts Ferry Pike and travel approximately 1 mile to the entrance to the recreation area. Entrance to the campground is on the right at a stone entrance way. Continue past the campground to the boat ramp.
Lat-Long: 36.13399, -86.57042, campground entrance
Lat-Long: 36.13159, -86.5652, boat ramp
Hours: day light hours
Seasonality: year round
Fees: In summer, the campground area has a $4 fee per car. The boat ramp area is always open and free. When the campground is closed in fall through winter, park along the road (do not block the gate) and access the campground loop via foot.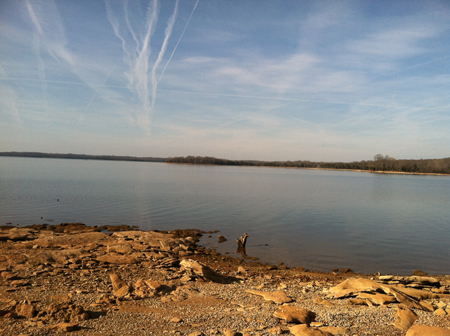 Winter view of the lake from near the beach.

Site Description: The campground loop provides access to a beach, boat ramp, and excellent views of the lake. The recreation area (campground) is only open to vehicle traffic in summer, however it can be accessed via foot in winter. Mixed hardwoods with extensive cedar thickets are found around the lake edges.

Wildlife to Watch: The lake attracts gulls, loons, grebes, and waterfowl in winter. In winter, Horned Grebes are common in the area off the beach. Other regular winter visitors include Red-breasted and Hooded Mergansers, while Common Mergansers are occasionally seen. Mallard, Common Goldeneye, Bufflehead, Ring-necked Duck, Lesser Scaup, Northern Pintail, Green-winged Teal, and Gadwall are found in winter. Common Loon, Pied-billed Grebe, and Ring-billed, Bonaparte's, and occasionally a Herring Gull are found as well.

The woods are often hopping with common woodland birds in winter such as Cedar Waxwings, American Robins, Yellow-rumped Warblers, among others. Rusty Blackbirds are occasionally seen in winter.

The best bird viewing is done in the morning from October through March by walking the campground loop to the beach and other lake viewing areas around the campground loop. Off the beach area is a rocky island that is only exposed in winter when the lake is drawn down, but is marked with river markers. The island concentrates gulls and occasionally waterfowl, but the distance is great and it is tough to get a good view without perfect conditions and a good scope. Viewing the birds on the island is usually better from the Cook Recreation Area. We recommend watching birds coming to roost in evening on this part of the lake by watching from Cook Recreation Area as the visitor is looking directly into the sun from the beach at Seven Points.

Woodland birding is good in the morning, but can be productive throughout the day. Just before turning left to the boat ramp, there is a gated road where you can park and walk. The old road goes through some grassy and shrubby areas and is often good for sparrows in winter. The road ends in the lake.

Recent rare birds (early winter 2012): Pacific Loon, Red-throated Loon, Western Grebe, Eared Grebe, and Surf Scoter.

For more information:

Percy Priest WMA map

Boat Ramp maps (aka wildlife viewing spots)

Army Corps of Engineers lake information

Submit your data to eBird and help us build a list of birds seen at this site





Be sure to check out our Safety Tips page for important information regarding viewing wildlife in these areas.