Liberty Park and Marina

Site Directions: Take Interstate 24 to exit 11, Hwy 76/41A/Ashland City Road. Turn left onto Hwy 76/41A/Ashland City Road and travel 9.0 miles to the intersection of Riverside Drive and Hwy 48/13. Turn left onto Hwy 48/13. The Park will be in 0.2 miles on your right.
Address: 1190 Cumberland Drive (Hwy48/13), Clarksville, Tennessee
Lat-Long: 36.505048, -87.369731, main entrance on Hwy 48/13
Hours: Park – Dawn to Dust – 7 days a week
Marina and boat ramps open 24 hrs, 7days week
Seasonality: Year-round
Fees: none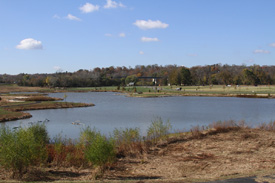 Site Description: Liberty Park and Marina is a newly renovated multi-purpose-park in Montgomery County. Situated along the Cumberland River this location features a 10 acres fishing pond, wooden boardwalk, protected wetlands, 1.8 miles of walking trials, fenced dog park, multi-purpose sports fields, playground, pavilions, picnic tables over-looking the Cumberland River, rest-rooms, 4-lane boat ramp and a full service marina.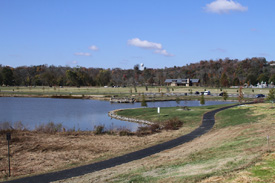 Wildlife to Watch: The Park's small pond and wetlands attracts Great Blue Herons, Great Egrets, Red-winged Blackbirds, Killdeer, Belted Kingfishers and other wetland species. Tree lined walking paths along the Cumberland River are great places to find fall and spring migrating warblers and swallows. Along the Cumberland River and the adjoining marina there is the possibility of spotting waterfowl, soaring raptors, Double-crested Cormorants and gulls. A White-winged Scoter was present for several weeks in winter 2010-11.


For more information:
Liberty Park web page

Submit your data to eBird and help us build a list of birds seen at this site


Be sure to check out our Safety Tips page for important information regarding viewing wildlife in these areas.