Dunbar Cave State Park

Dunbar Cave State Park is located 60 minutes northwest of Nashville and about one and a half miles northeast of downtown Clarksville in Montgomery County.
Take Interstate 24 to Exit 8 (Rossview Road). Turn left on Rossview Road. Travel 1/4 mile to Dunbar Cave Road. Turn left on Dunbar Cave Road. The park entrance is 2.5 miles on the right.
Address: 401 Dunbar Cave Road, Clarksville, Tennessee
Lat-Long: 36.550065, -87.305416, parking lot entrance on Dunbar Cave Rd.
Hours: Park - 8:00 a.m. until sunsetVisitors Center - 8 a.m. to 4:30 p.m. – 7 days a week
Seasonality: Year-round
Fees: none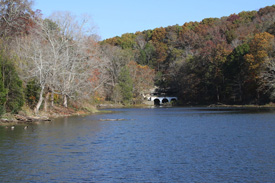 Site Description: Dunbar Cave is a 115-acre natural area in Montgomery County. Its main feature is a well-explored scenic and historic cave, which above ground is surrounded by an upland hardwood forest. A stream exits the cave and has been impounded to form a small lake that is inhabited by many fish, turtles, and other wildlife, known as Swan Lake. There are three trails on the natural area that range from a leisurely walk to a fairly strenuous hike. All trails begin and end at the visitors' center. Other park activities include fishing and picnic facilities.

Wildlife to Watch: The Park's small lake - Swan Lake - attracts various migrating waterfowl during winter. Woodland birds may be found throughout the year in the hardwood forest. Along the trails Barred Owls can be spotted or heard most days and in the spring and fall migrating warblers can be abundant.


For more information:
Dunbar Cave State Park web site

Submit your data to eBird and help us build a list of birds seen at this site


Be sure to check out our Safety Tips page for important information regarding viewing wildlife in these areas.