President's Island area
Site Directions: See detailed directions below, but from I-55, take Exit 11 west and follow signs onto President's Island.
Lat-Long: 35.118048,-90.074844. This is where Jack Carley Causeway crosses onto the island.
Hours: day light hours
Seasonality: year round
Fees: none
Site Description: The loop road around through the industrial complex is where many of the local specialties are found. In the details directions below, you will find specifics on where Western Kingbirds, Scissor-tailed Flycatchers, Painted Buntings, and (if you are really lucky) White-winged Doves are found. President's Island WMA is closed and gated to public access, but the gravel road that leads you out onto the WMA hasn't been gates since the May 2011 flood. Some local specialties are also found here.

Wildlife to Watch: Typical woodland and early successional species can be found, but the local specialties that are found here include Western Kingbirds, Scissor-tailed Flycatchers, Painted Buntings, and (if you are really lucky) White-winged Doves. All but the Scissor-tailed Flycatchers are typically only found in Shelby Co., TN and specifically this part of Memphis.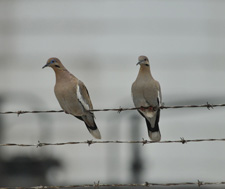 Detailed directions for birding the area
NOTE - No part of President's Island is technically open to the public, but the road is open for vehicle traffic and people bird watch on the island regularly. This is your warning.
President's Island
From I-55, take exit 11 and travel WEST onto W. McLemore Ave.
If you are coming south on I-55, make a right at the bottom of the off-ramp OR if you are traveling north on I-55, turn left at the bottom of the off-ramp. At the funky "S" curve intersection, make a turn to the right and then an immediate left hand turn following signs to President's Island. Follow the highway about 1.0 mile to a split for Harbor Ave (right) or Channel Ave (left). A recommended direction to travel is to go RIGHT onto Harbor Rd and make a counter-clockwise loop around the island (it makes parking on a wide shoulder easier).
From the Harbor Ave/Channel Ave split, make a right and travel 0.6 miles to a gravel road (35.107973,-90.100046) that drops off down off the levee (in Google maps, it shows up as Port Rd.). Travel 0.1 miles to a cut through the woods for a gas pipeline. This is a reliable spot for Painted Buntings from mid- to late April and summer. Travel another 0.2 miles to a power substation where both Western Kingbirds and Scissor-tailed Flycatchers may be found. Both of these species may be found anywhere along this road.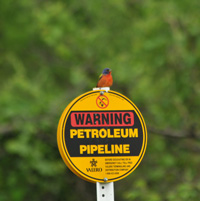 If you travel further past the power substation, the road straight ahead may or may not be gated but it is technically closed to the public (35.111922,-90.104704). This property is owned by the Memphis Port Authority and managed as President's Island WMA, but it is technically closed to all access. Painted Buntings, Scissor-tailed Flycatchers, among other birds can be found here though.
Return to Harbor Ave and make a right, continuing on the loop around the industrial complex. Check all the pine trees for possible White-winged Doves and fences and wires for Western Kingbirds and Scissor-tailed Flycatchers and their hybrids.
Make a left on Buoy St. at the far end of Harbor Ave and check the power substation for Western Kingbirds (35.086405,-90.135366). Pass the power substation on Buoy St. and make a left onto Channel Ave with the Cargill Plants on your right. White-winged Doves were first found in the Cargill area here in April 2011. There is a wide shoulder for pulling off and searching through the doves, but be careful of all the trucks! Follow Channel Ave and look carefully for Western Kingbirds and Scissor-tailed Flycatchers on the fences and powerlines. Scissor-tailed Flycatchers nested on the power poles at 1920 Channel Ave (35.094164,-90.109478) and a second pair a little further down the road. Check the small pine trees across the street from 1920 Channel Ave for White-winged Doves. There can be hundreds, if not thousands, of Rock Pigeons, Mourning and Eurasian Collared-Doves here, so carefully sort through all the birds. There are wide shoulders on the roads, but be careful and mindful of all the truck traffic.
If you missed Western Kingbirds on the island, there is another location 0.5 miles east of I-55 on W. Mclemore Ave. A pair of Western Kingbirds has been found in the power substation at the corner of W. McLemore Ave and Kansas St (35.116196,-90.063184) for a few years (at least through 2012). The birds are often on the wires or the fences around the substation. If you don't see them quickly, park on the section of Kansas Rd going north from W. McLemore Ave and walk and search the power structures itself. This area isn't best part of Memphis, so just be careful.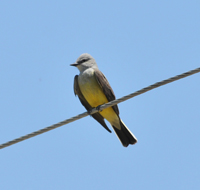 Entrance road onto President's Island: 35.118048,-90.074844
Painted Bunting area and entrance to President's Island WMA: 35.107973, -90.100046

Submit your data to eBird and help us build a list of birds seen at this site. "Mississippi River--President's Island" is a Hot Spot in eBird.


Be sure to check out our Safety Tips page for important information regarding viewing wildlife in these areas.