Vesta Cedar Glade SNA

Site Directions: From Hwy 840 travel to exit 67, Couchville Pike, and head east. Couchville Pike will turn into Vesta Rd. Continue travelling east 2 miles to Moccasin Rd where you will make a left. Continue about 1 mile to a 90 degree right hand turn with parking lot and sign on the left.

From Murfreesboro/Lebanon on Hwy 231/10, travel to Vesta Rd and head west. Travel west until you reach Moccasin Rd where you will make a right. Continue about 1 mile to a 90 degree right hand turn with parking lot and sign on the left.
Lat: 36.07657°N Long: -86.39584°W
Hours: daylight hours
Seasonality: year round
Fees: none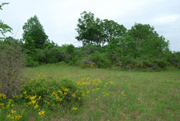 Cedar glade.
Site Description: The 150 acre State Natural Area is small, but protects a beautiful example of a cedar glade, which is a rare habitat in middle Tennessee. From the parking lot visitors can hike a lovely 2 mile loop through cedar forest and into the cedar glade.
Spring and summer are the best time for wildflowers and birding, although ticks can be very bad. Be sure to protect yourself from ticks.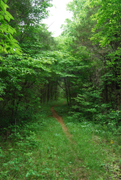 Hiking trail through the forest,

Wildlife to Watch: Wildflowers are the main draw to the site. Endangered Tennessee coneflower grows abundantly, especially within the 10 acre fenced area. Other threatened plants grow on site. The birds of cedar glades make a visit here in spring and summer special. One can find Field Sparrow, Prairie Warbler, Common Nighthawk, Eastern Bluebird, Indigo Bunting, and Eastern Towhee in the cedar glades. Summer Tanager, Red-eyed Vireo, Blue-gray Gnatcatcher, and Ovenbird can be found in the forests around the cedar glade. In May and June, Common Nighthawks may be flying around during the day, courting and displaying.

For more information:

Vesta Cedar Glade SNA web page


Submit your data to eBird and help us build a list of birds seen at this site


Be sure to check out our Safety Tips page for important information regarding viewing wildlife in these areas.