Kyker Bottoms Refuge
Site Directions:
From Knoxville or points west via I-40: Take I-140 south to US 129. Then take US 129 south past the Knoxville Airport. A few miles past the Knoxville Airport, US 129 merges with US 411. Continue south on US 129/411 to a stop light where the highways split. Turn left, staying on US 129 South for about 7.5 miles to the intersection with Garland Road on the right. Turn right (east) onto Garland Road. The refuge property starts on the right in about 0.8 miles.
From the east on I-40, exit at US 129-Alcoa Highway and stay on US 129 towards the Knoxville Airport. Follow directions as above.
From the south on I-75: Take exit #60 (Madisonville, TN 68). Go right at the end of the ramp, onto TN 68. Follow it to US 411 and go north on US 411. After crossing over Tellico Lake (which is worth a brief stop in winter for gulls and waterfowl) take a right on TN 72. At the fork in the road, go right onto Kyker Road to check the 2 gravel parking lots (described below) or go left onto Big Gully Road and turn into the paved parking lot (described below) after 0.3 mile.
Lat: 35.600720°N Long: -84.114217°W
Hours: daylight hours
Seasonality: year round, however the area is closed to all entry from 15 November through last day of February. See information in Tennessee Ornithological Society page below about access and safety.
Fees: none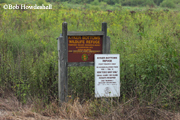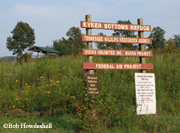 Site Description: Kyker Bottoms Refuge is a 350 acre area in southern Blount County owned and managed by the Tennessee Wildlife Resources Agency. It lies along Ninemile Creek a few miles west of Tellico Lake and features fields, wetlands, and thickets managed primarily for small game and waterfowl.
Approximately 0.8 miles from US 129 you will pass the refuge boundary and over a small creek. If you are up for a walk, turn into the well-concealed gravel drive on the right immediately after crossing the creek. Be very careful parking as it can be muddy. After parking, walk out onto the levee. Taking a left at the first intersection on the levee leads to the equipment shed area, and goes through the most productive wetland area. This can be very buggy and very hot in summer. Alternatively, from the gravel parking lot cross back over the creek and walk the gated dirt road along the east side of the creek past overgrown fields and eventually to a large marsh. Turkeys are often present along this dirt road. This area is not open to the public in the winter when most waterfowl are present.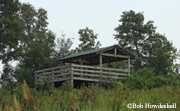 Observation Tower

Wildlife to Watch: For the birdwatcher, Kyker is one of the best places in east Tennessee and especially the greater Knoxville area from fall through spring for a large variety of hawks, sparrows, and, depending on water conditions, waterfowl and shorebirds.
During the fall and winter, an American Kestrel and a Loggerhead Shrike are usually present near the equipment shed, perched on one of the light posts, fences, or tall shrubs. Check the brush around the equipment shed and the adjacent fields for Savannah, Vesper, and other sparrows, Palm Warblers, and pipits. Also, watch for Red-shouldered Hawk, Red-tailed Hawk, Northern Harrier, American Bittern, Sora, and Virginia Rail. Waterfowl are abundant in winter, when access is closed to the public.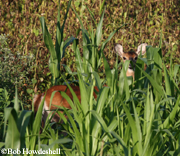 NOTE: Please refer to TWRA Hunting Guide about hunting seasons and public access dates. Access dates vary by site.

For more information:

Kyker Bottoms Refuge Bird List


Submit your data to eBird and help us build a list of birds seen at this site


Be sure to check out our Safety Tips page for important information regarding viewing wildlife in these areas.