Couchville Cedar Glade State Natural Area
Site Directions:
From I-40 exit on Highway 171 and go south on South Mount Juliet Rd. for about six miles then bear left onto South Mt Juliet Rd. The parking area is one half mile on the right.
From I-24, exit at Old Hickory (southeast Nashville near Hickory Hollow Mall) and proceed east for approximately 12 miles. Turn right at South Mt Juliet Rd about one and one half miles past the Long Hunter State Park entrance. The parking area is one half mile on the right.
Lat: 36.10122°N Long: -86.52944°W
Hours: daylight hours
Seasonality: year round
Fees: none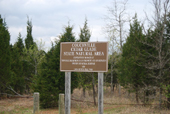 Sign at parking lot.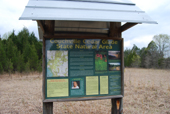 Information kiosk at trailhead for loop trail
Site Description: Couchville Cedar Glade SNA is a relatively small natural area (122 acres), however its beauty and diversity in wildlife makes the site a treat. A mile long hiking trail loops through one of the best examples of a cedar glade left in middle Tennessee. Extensive bare rock intermixed with grasses and wildflowers are the highlight at this site.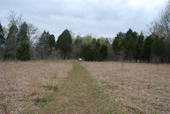 Wildlife to Watch: Summer wildflowers are the main attraction, especially the Federally Endangered Tennessee coneflower. In spring and summer, Prairie Warbler, Field Sparrow, Common Nighthawk, and Orchard Orioles are found breeding.

The glades are distributed where limestone outcropping and shallow soils limit growth of perennial plants and support annual species like leavenworthia, sporobolus, and sedum. The barrens species, that also includes Tennessee coneflower, occur where soils increase and grasses like little bluestem and side oats grama become dominant. The glades and barrens interface forming a complex. There are small woodland patches surrounding the glade-barrens complex with some shrubby vegetation present in the barrens. There are also some seasonal wet areas where small sedge openings occur and where an ephemeral stream habitat supports a small colony of the federally endangered leafy prairie clover.

For more information:

Couchville Cedar Glade SNA web page



Submit your data to eBird and help us build a list of birds seen at this site


Be sure to check out our Safety Tips page for important information regarding viewing wildlife in these areas.