Cedar Hill Swamp WMA
Site Directions: From Nashville: Take I-24 W to exit 24 for Highway 49 (Ashland City/Springfield). Go toward Springfield and travel 10.4 miles to Kinney's Rd. Go left on Kinney's Road and travel 5.1 miles to Old Washington Road. Turn right on Old Washington Road and go approximately a half mile to Goodman Road (signage may be absent) and turn right. The entrance to the WMA and a small grassy parking area can be found about one third of a mile on the left alongside a small wooden shed.
Lat-Long: 36.54379, -86.99594
Hours: daylight hours
Seasonality: year round
Fees: none
Site Description: Early- to late successional hardwood forest dominated by pin oak and sweetgum dominate the 200 acres found at Cedar Hill Swamp WMA. A few acres of overgrown fields are found near the entrance. The only remaining swamp land is on private property adjacent to the WMA on the opposite side of the CSX railroad tracks.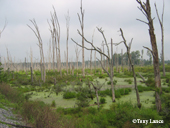 Wildlife to Watch: Early successional bird species such as Yellow-breasted Chat, Indigo Bunting, Blue Grosbeak and Field Sparrow can be found near the entrance in summer. The forested sections of the WMA are home to Kentucky Warbler, Summer Tanager, Red-eyed Vireo, Pileated Woodpecker and Barred Owl. The wetland (again, on private property) provides breeding territory for Wood Duck, Tree Swallow, Red-headed Woodpecker, American Kestrel, Red-winged Blackbird, Common Yellowthroat, Prothonotary Warbler and Green Heron. Loggerhead Shrikes winter on the farms around the swamp.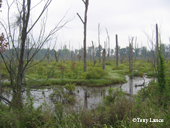 NOTE: Please refer to TWRA Hunting Guide about hunting seasons and public access dates. Access dates vary by site.


Submit your data to eBird and help us build a list of birds seen at this site

Information on Cedar Hill Swamp WMA generously contributed by Tony Lance.


Be sure to check out our Safety Tips page for important information regarding viewing wildlife in these areas.