Long Hunter State Park
Site Directions: From I-40 east of Nashville, take exit 226A and travel 6.7 miles south on Hwy 171. Turn left into the park entrance. Visitors center on your immediate right. If coming from I-24 south of Nashville, take exit 62 (Old Hickory Blvd) and travel 7 miles north on Hwy 171 to park entrance.
Headquarters - Lat: 36.09256°N Long: -86.55549°W
Couchville Lake-
Lat: 36.094685°N Long: -86.543097°W
Access via Bryant Grove and mountain bike trail (hiking trail)- Lat: 36.08035°N Long: -86.58356°W
Hours: 7am to sunset year round.
Seasonality: year round
Fees: none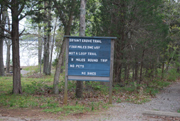 Bryant Grove trailhead
Site Description: This park consists of 30 miles of shoreline along J. Percy Priest Lake. A two-mile paved loop goes through cedar glade and hardwood forests surrounding Couchville Lake. Many hiking trails, other than Couchville Lake, are present at other access points.

A mountain bike trail is available from an eastern access point on Bryant Grove Rd. The mountain bike trail is open to hikers (use caution) and this area is one of the best examples of remaining cedar glade habitat anywhere. From the parking area at the Bryant Grove Area, users can access a one way, 4 mile trail through cedar glades and forest.

Obtain a map from the visitor's center (or see map link below) and visit other access points from surrounding areas.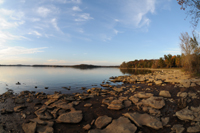 Panoramic view from Bryant Grove picnic area

Wildlife to Watch: Up to twenty species of waterfowl can be seen on J. Percy Priest Lake in winter, including Hooded Merganser, Bufflehead, Mallard, Gadwall, and Lesser Scaup. Common Goldeneye are uncommon, but may be found in winter in small numbers. Horned and Pied-billed Grebe may be found in winter as well. Landbird migrants can be abundant in the woods in spring and fall. Killdeer, Common Nighthawk, and Prairie Warbler can be found breeding at Long Hunter State Park. White-tailed deer can be seen regularly. The six-lined racerunner is uncommonly seen, but is common. Osprey can occasionally be seen in summer.

For more information:


Submit your data to eBird and help us build a list of birds seen at this site


Be sure to check out our Safety Tips page for important information regarding viewing wildlife in these areas.