Frozen Head State Park and State Natural Area
Site Directions: From I-40, take exit 347 in Harriman and travel north on Hwy. 27 to Wartburg. Turn right (East) on Hwy. 62. Travel 2 miles and turn left on Flat Fork Road. Travel 4 miles to the park entrance.
Lat: 36.1253°N Long: -84.5041°W
Hours: 8:00 am to sunset
Seasonality: year round
Fees: none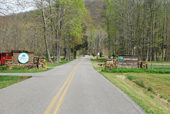 Entrance gate and signs by the headquarters.

Site Description: Frozen Head State Park and Natural Area is a 13,122 acre area in the Cumberland Mountains in Morgan County. It is mostly forested and features 14 peaks exceeding 3,000 feet in elevation. The highest point, 3,324 foot Frozen Head Mountain, is one of the highest peaks in the Tennessee Cumberlands. In addition to offering spectacular scenery and wildflowers, Frozen Head supports high breeding populations of several Neotropical migrant birds, including the Cerulean Warbler, as well as breeding populations of a few high elevation species which are rare in Tennessee outside of the Blue Ridge Mountains. Frozen Head contains many stands of the mixed mesophytic forest type, and some of these stands have several old growth characteristics.

The park has over 50 miles of marked trails including one small loop dedicated to interpreting the park's natural areas. Additionally, there are regularly scheduled activities offered by the rangers at the park. Call or visit their website in advance of your trip for details.

Wildlife to Watch: The main park road runs parallel to Flat Fork Creek and past mowed fields and low elevation hardwood and mixed forests. Acadian Flycatcher, Blue-gray Gnatcatcher, Northern Parula and Yellow-throated Warbler, and Louisiana Waterthrush are common during spring and summer along the creek. Swainson's Warblers have also occurred in this area. Check the fields and field edges for Brown Thrasher, American Robin, and Eastern Bluebird. Eastern Wood Pewee, Red-eyed Vireo and Yellow-throated Vireo, Wood Thrush, Black-and-White Warbler, Ovenbird and Scarlet Tanager are common in the roadside forests.

Cerulean Warbler can occasionally be seen - or more often heard - from the main park road. They are much more numerous along many of the park's hiking trails. The park's breeding populations of Veery, Chestnut-sided Warbler, Black-throated Blue Warbler, Blackburnian Warbler, Canada Warbler, and Rose-breasted Grosbeak are only observable by hiking to higher elevations. Ruffed Grouse can often be seen from the parks many hiking trails.


For more information:

National Audubon Society Globally Important Bird Area information

Birds of Frozen Head SP and SNA from eBird submissions

Tennessee's Cumberland Plateau Nature Trail


Submit your data to eBird and help us add to the list of birds seen at this site
Be sure to check out our Safety Tips page for important information regarding viewing wildlife in these areas.