Hickory Flats WMA and May Prairie SNA
Site Directions: From I-24 take exit 114 and travel on Hwy. 41 south toward Hillsboro. Approximately one mile from the interstate, turn east (left) onto Asbury Road. Go approximately 0.6 miles to a small parking lot on the south (right) side of the road. This provides access to Hickory Flats WMA and May Prairie SNA. Travel further on Asbury Rd to a mild bend in the road where an unofficial parking spot is available for access to the mature forest on the north side of the road. Past the parking spot, turn left onto Clifton Scott Road and on the left (west) side of the road is the management area; however there is no designated parking spot at this location.
Lat-Long: 35.46254, -86.01604
Hours: daylight hours
Seasonality year round
Fees: none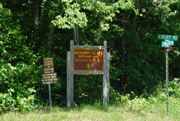 Hickory Flats WMA sign on Asbury Rd.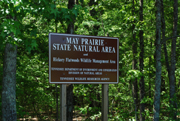 May Prairie SNA sign at parking lot on Asbury Rd.

Site Description: Mature hardwood forests, consisting of oak, hickory, maple and sweet gum are found on the 800 acres of Hickory Flats WMA. Management via burning is slowly creating open savanna habitat on the unit on the south side of Asbury Rd where the property is managed cooperatively with TWRA and TDEC. From the parking lot at May Prairie SNA, follow the hiking trail for approximately 0.5 mile to two small wetland meadows with native wild flowers and wetland obligate plants. ATV trails are accessible via foot on the northern unit of Hickory Flats WMA from the "bend in the road" parking spot. ATV trails wander through the woods and provide for good wildlife watching.

Wildlife to Watch: In summer, several Neotropical migratory birds nest at Hickory Flats WMA, including Wood Thrush, tanagers, Yellow-throated Vireo, Red-eyed Vireo, and Ovenbird. Deer are common in the area as are Wild Turkey. Canada Warbler was seen in May 2009.

NOTE: Please refer to TWRA Hunting Guide about hunting seasons and public access dates. Access dates vary by site.


For more information:


Submit your data to eBird and help us build a list of birds seen at this site


Be sure to check out our Safety Tips page for important information regarding viewing wildlife in these areas.