Harmon Creek WMA
Site Directions: From Benton County Courthouse in Camden, TN, go west on N. Church Rd approximately 0.25 miles and make a right on Stigall Rd. Go 0.6 miles to a 3 way split and bare left, continuing on Stigall 1.3 miles to a 4-way split where you make a right on Beaverdam Rd (signs). Continue 3.9 miles to a 4 way stop at Eva-Flatwoods and go straight, regardless of what the Harmon Creek WMA sign says. Locals have sprayed wrong direction arrow on the sign. Go straight for 3.7 miles and find a sign for Harmon Creek Church Rd. Go right for 1.7 miles to the top of a steep hill and bare right on Highstand Ridge Rd. After 0.3 miles, you will hit a T and the entrance for Harmon Creek WMA.

After rain, dirt roads may be slippery for two-wheel drive vehicles. One steep gravel hill is present on way to Harmon Creek WMA.
Lat: 36.14530°N Long: -87.93846°W
Hours: daylight hours
Seasonality: year round
Fees: none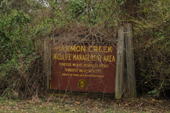 Site Description: From the entrance sign, you can follow dirt roads in either direction, occasionally flooded and rutted with deep holes. Four-wheel drive may be required at times as one road goes through a small creek. These roads lead to 983 acres of early successional fields, reforestation, cropland, and open water along Kentucky Lake. Small pine stands are present as well.

Wildlife to Watch: Shorebirds are present when water levels are low. Waterfowl, deer, and turkey are abundant. Bald Eagles are seen regularly and nest in the vicinity of the WMA. Access to adjacent TVA property, which is mostly oak-hickory hardwood forests, provides a nice mix of passerine and other woodland birds. Open land birds commonly seen include Red-winged Blackbird, Eastern Bluebird, and Mourning Dove. Great Blue Herons are common along the water edges.

NOTE: Please refer to TWRA Hunting Guide about hunting seasons and public access dates. Access dates vary by site.


Submit your data to eBird and help us build a list of birds seen at this site


Be sure to check out our Safety Tips page for important information regarding viewing wildlife in these areas.