Hop-In Refuge
Site Directions: From Kenton in Obion County, take Hwy 89 east until the road passes over the Obion River. At the sharp bend to the right (east), make a left on Old Kenton Rd and then a left on McRight Rd that provides access to the refuge.
Lat: 36.2511°N Long: -88.97809°W
Hours: daylight hours, however the refuge is closed to all forms of trespass from 1 November through the last day of February.
Seasonality: year round
Fees: none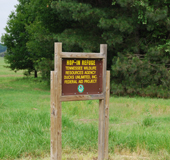 Site Description: Fields are cultivated in the summer with crops and flooded in the winter for waterfowl.

Wildlife to Watch: A large number of waterfowl (possibly over 50,000 individuals) and the largest wintering Sandhill Crane population in West Tennessee (>4000 birds) define the importance of this site. Waterfowl are able to overwinter on the site because it is an area with no hunting and is a quality resting area.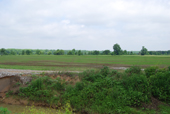 These fields are flooded in winter and provide excellent habitat for waterfowl and sandhill cranes.

NOTE: Please refer to TWRA Hunting Guide about hunting seasons and public access dates. Access dates vary by site. However, the refuge is closed to all forms of trespass from 1 November through the last day of February.

For more information:


Submit your data to eBird and help us build a list of birds seen at this site


Be sure to check out our Safety Tips page for important information regarding viewing wildlife in these areas.