Wolf River WMA (and Ghost River SNA)
Site Directions: From Memphis, take Hwy 57 east to LaGrange and turn south on Main St at the main intersection in town. Main St provides access to the upstream boat ramp for canoe put-in and access to Beasley Rd that provides access to the Mineral Slough Boardwalk. Bateman Rd intersects Hwy 57 a few miles west of LaGrange and allows for access to the canoe take-out parking lot and the western sides of the area.
Mineral Slough Boardwalk - Lat-Long: 35.02891, -89.2665
Bateman Road - Lat-Long: 35.02391, -89.3505
Hours: daytime hours
Fees: none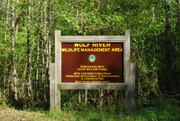 Site Description: The majority of the Wolf River Wildlife Management Area lies along the unchannelized portion of the Wolf River from the Tennessee/Mississippi state line to the Bateman Bridge. Upland areas are characterized by agricultural fields/pastures, and scattered stands of upland hardwoods. The Wolf River WMA consists of 4,236 acres of which 2,400 acres is in the Wolf River floodplain and 1,667 acres in open agricultural and pastures. The forested acreage is >80% bottomland hardwood/swamp forest.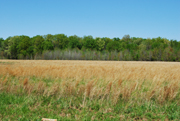 Managed grasslands at Wolf River WMA
The Ghost River State Natural Area is a 2,220-acre, 14-mile section of the Wolf River from the parking area near La Grange to the Bateman Bridge. Here, the Ghost River section of the Wolf is unchannelized and meanders through bottomland hardwood forests, cypress-tupelo swamps, and open marshes. Some of the most impressive trees are oaks that include Cherrybark, Water Willow, and Swamp Chestnut. The low ridges above the river bottoms support Tulip Poplar, beech, and White Oak with Northern Red Oak infrequently occurring. The natural area also includes significant uplands and sandy hills adjacent to the floodplain. The Ghost River section of the Wolf River received its name from the loss of river current as the water "flows" through open marshes and bald cypress-water tupelo swamps. A canoe trail has been blazed through the disorienting maze of Virginia Willow, cypress, tupelos, and stunted Pumpkin Ash. This trail includes a 600-foot boardwalk in the Minnow Slough area.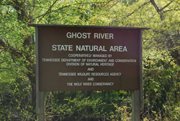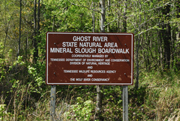 Wildlife to Watch: Neotropical migratory songbirds are common in summer, including Acadian Flycatcher, Prairie Warbler, Kentucky Warbler, and Wood Thrush.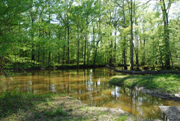 The Wolf River.

NOTE: Please refer to TWRA Hunting Guide about hunting seasons and public access dates. Access dates vary by site.

For more information:

Wolf River WMA/Ghost River SNA map

Birds of Wolf River WMA and Ghost River SNA from eBird submissions




Submit your data to eBird and help us add to the list of birds seen at this site


Be sure to check out our Safety Tips page for important information regarding viewing wildlife in these areas.