Cheatham Lake WMA
Site Directions: From junction of Hwy 12 and Hwy 49 in Ashland City.
Hudgen's Slough: Travel southwest on Hwy 49 for 2.4 miles and turn right at the Bluff Creek Launching Ramp site.
Lat-Long: 36.1832, -87.1042

Dyson Ditch: Go north on Hwy 12 for 1.1 miles. Turn left onto Chapmansboro Road at the Sycamore Creek Recreation Area sign. Go straight and continue over the bridge and stay right on Chapmansboro Road for 4.6 miles and turn into parking area at Cheatham Reservoir WMA sign. Dyson Ditch and Pardue Pond are closed to all forms of trespass from 15 November through last day of February.
Dyson's Ditch Refuge: Lat-Long: 36.1845, -87.0930

Cheatham Dam: Take Hwy 12 north 7.4 miles and turn left on Cheatham Dam Road. From here, travel 4.5 miles to the lock and dam. Cheatham Lake - Lat-Long: 36.1912, -87.1321

The Bicentennial Trail (3.7 mile long trail, mostly paved) runs along the edge of the WMA and is accessible via several access points in the WMA.

Hours: daylight, some access points are 6am to 10pm
Seasonality: year round, however some sites are closed to the public from 15 November through the last day of February, while other areas should just be avoided during hunting seasons.
Fees: none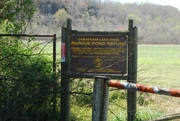 Entrance sign at the Pardue Pond unit.
Site Description: Cheatham Lake is a large body of open water, with various sloughs and marshes connecting to the main water body. Pine and hardwood forests are on higher ground and accessible via roads. Cheatham WMA consists of primarily upland hardwood forests with some pine stands present. There are also open fields, scrub shrub, and food plots where wildlife may congregate. In addition to the sites listed above, there are other units of Cheatham Lake WMA.

Camping, picnicking, restrooms, and boat launching is available at Cheatham Lock and Dam.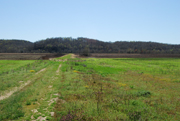 Pardue Pond fields

Wildlife to Watch: Cheatham Lake supports abundant waterfowl in winter, including Northern Pintail, Mallard, American Black Duck, Gadwall, among others. In wet fields in winter you can find Horned Larks, Swamp Sparrows, and American Pipits. Pine stands support Brown Creeper, Ruby-crowned Kinglets, and rarely Long-eared Owls in winter. Cliff Swallows nest on Cheatham Dam in summer. Bald Eagles have nested in the area for many years and are seen year round at Cheatham Lake.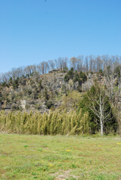 View along the river from Pardue Pond.

NOTE: Please refer to TWRA Hunting Guide about hunting seasons and public access dates. Access dates vary by site.


Submit your data to eBird and help us build a list of birds seen at this site


Be sure to check out our Safety Tips page for important information regarding viewing wildlife in these areas.