Shelton Ferry WMA
Site Directions: From Clarksville, take Hwy 48/13 south across the Cumberland River and stay on Hwy 48 towards Dickson. In 0.7 miles turn left onto Southside Rd. Turn left on Southside Drive and follow past Shooting Complex. This road ends in the Shelton's Ferry river bottoms and paved roads provide access north to boat ramp and south to various sections of the WMA.
Lat-Long: 36.40384, -87.28509
Hours: day light hours
Seasonality: year round
Fees: none
Site Description: This site is 628 acres of primarily agriculture fields with some grassy/scrub fields. A wetland near the northwest corner of the WMA has a small Great Blue Heron rookery. Mature forest stands are small, but trees line the river's edge.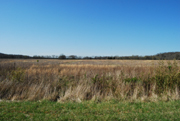 Wildlife to Watch: Look for Great Blue Herons from March through fall. Bald Eagles may be seen year round. Check the grassy fields for sparrows and other early successional species. Dickcissels, Blue Grosbeaks, Indigo Buntings, Yellow-breasted Chats, Common Yellowthroats, Field Sparrows and Red-headed Woodpeckers are common across the WMA. Prothonotary and Yellow-throated Warblers are regular as well.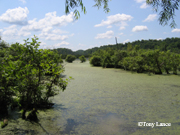 NOTE: Please refer to TWRA Hunting Guide about hunting seasons and public access dates. Access dates vary by site.



Submit your data to eBird and help us build a list of birds seen at this site

Species and site information generously contributed by Tony Lance.


Be sure to check out our Safety Tips page for important information regarding viewing wildlife in these areas.