Unaka
Febuary 2014
In late January 2014, a Golden Eagle with a transmitter on its back (see photo) began coming in to a site TWRA is operating on Unaka Mountain. This site is only an air mile from where we trapped Unaka in February 2013. Although we do not yet know which Golden Eagle this is, no known CTT tracked birds are in this part of the Appalachain Mountains and it is quite possible that this is our missing bird. Although there has never been a transmitter failure, esp. on a new bird, it is possible something went wrong. Also, the lead levels on this bird were of major concern, so to know that Unaka is still alive would be very important in many ways!
We are hoping to try to trap this bird again in the coming weeks, see if it is our missing Unaka bird, take more blood, put on a good transmitter and see if the current transmitter recorded anything (and just didn't dump data). Finger crossed we get our hands on this bird and it is our Unaka bird! There is a lot to gain from retrapping this bird.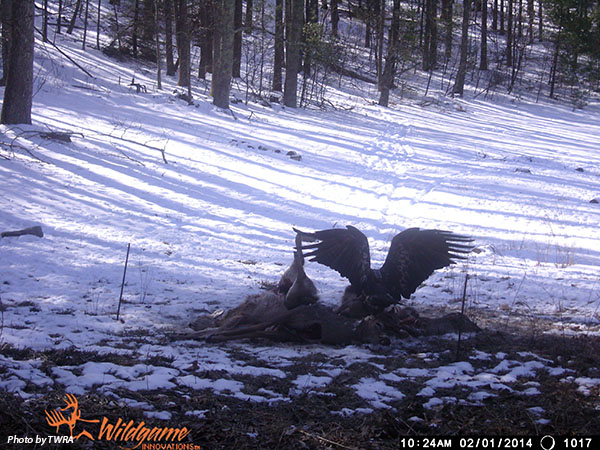 Nov 2013
We never recieved any data on this bird, sadly. We do not know if the transmitter failed for some reason or if he died before leaving the mountains and thus never sent any location information.
Archive on "Unaka"
This Golden Eagle was caught on February 11, 2013, on Unaka Mountain only 400m across the state line into North Carolina. This bird is at least a 7 year old male, but is likely a 10 yr old. He was actually banded in Tennessee and upon release it flew into Tennessee! This bird is in a remote area without cell coverage, so we have received no data (
As of April 15, 2013, the bird has not sent any data yet, although he was recorded on a study site near the capture site 9 days after being trapped. There are a couple possible explanations for the lack of data:
1. Older birds have much smaller winter home ranges than younger birds and maybe he has stayed in the cell coverage dead zone (which for AT&T is basically the entire southern blue ridge mountains) all winter. He should be moving north by now though and should have sent data. Many older birds are on breeding territories in Ontario and Quebec already.
2. Transmitter failure is possible, although these transmitters have extremely low failure rates.
3. Tests conducted for blood lead levels show that this bird had pretty high levels of lead in its system. Although the bird appeared fine during capture, maybe the lead has affected its behavior and something has happened to the bird as a result. The lead levels are quite concerning and we don't know how long he can live with levels this high.
We hope the transmitter has just failed! I have my fingers crossed that this bird is alive and turns up somewhere soon, although it isn't looking good.
See map with the location where Unaka was trapped (and unfortunately no data!)