Sand Rock
Update - March 2016
Sand Rock spent the winter months in between Chattanooga, TN and Huntsville, AL. Sand Rock is now headed north for the breeding season.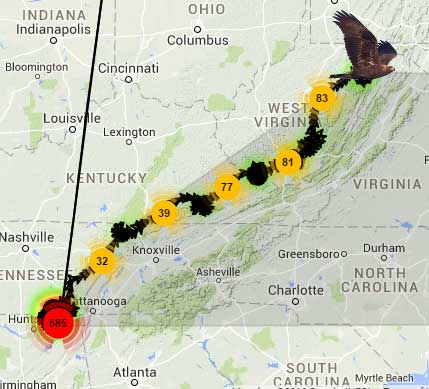 Update - December 2015
Sand Rock spent the breeding season northwest of Hudson Bay in Quebec, Canada. He has now returned to an area west of Chattanooga along the Tennessee/Alabama border for the non-breeding season.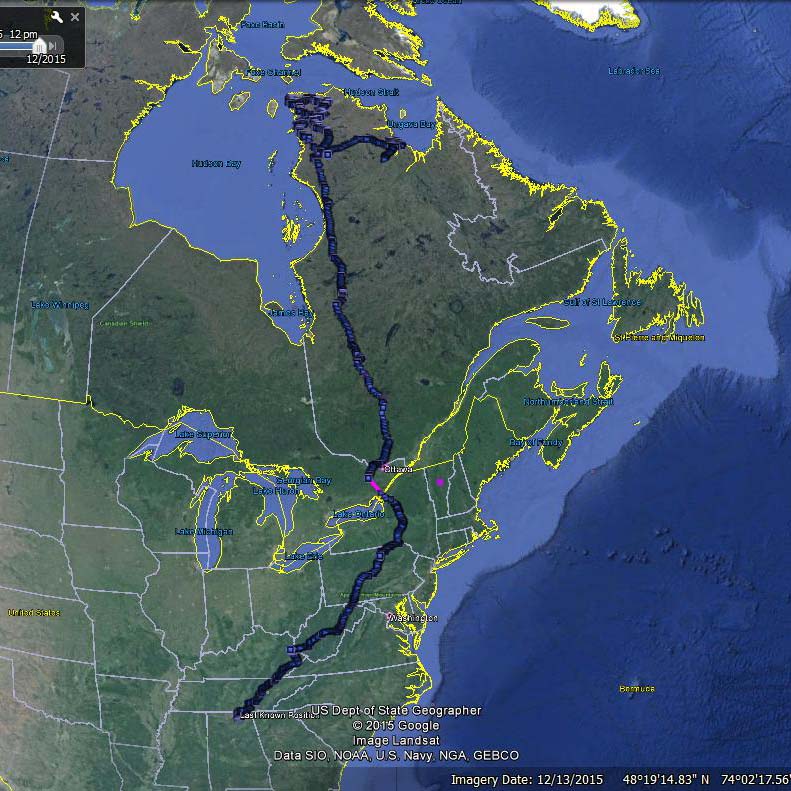 Update - 27 March 2015
Sand rock is also on his way north already. Last spring he went west and wandered across eastern Missouri before going through Michigan and then north to Quebec, but this year he's just heading right up the Apps towards the breeding grounds.
Here is Sand Rock's full route for the winter. He's currently in southern PA.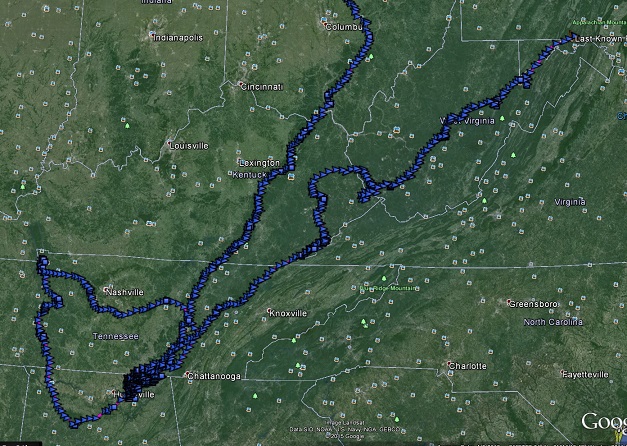 This map is his winter usage of Tennessee.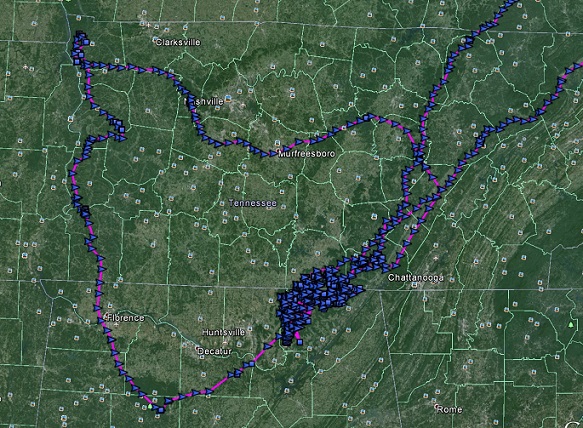 Update - 23 Jan 2015
Sand Rock has been doing some big movements over the last few weeks. He went SW from the southern end of the plateau in northern AL and went to Bankhead NF before going north to LBL. He then cross down to Cheatham WMA (where he spent a night) and then over Murfreesboro before getting to Center Hill Lake. He most recently has been near the Sequatchie Valley.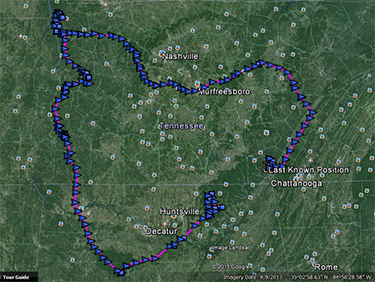 Update - 5 Jan 2015
Sand Rock hasn't moved out of the southern Cumberland Plateau for a while. He last checked in on 27 Dec. The continued cloudy days and little cell coverage down there results in little data. He also didn't collect data for about a week due to low battery charge. We need some sun!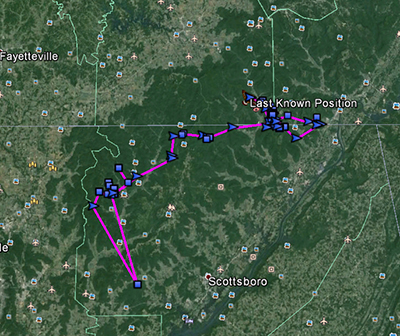 Update - 15 Dec 2014
Sand Rock is back in Tennessee and back where we caught him last winter! He took a quick trip through the Daniel Boone NF in KY and cruised southward east of Crossville and back to the southern end of the Appalachian Mountains.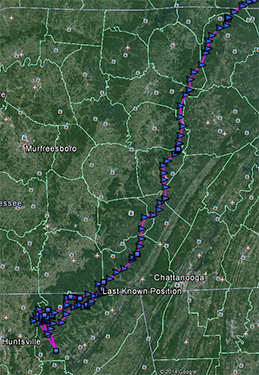 Update - 23 Nov 2014
Sand Rock is working his way south thru the Daniel Boone NF in Kentucky.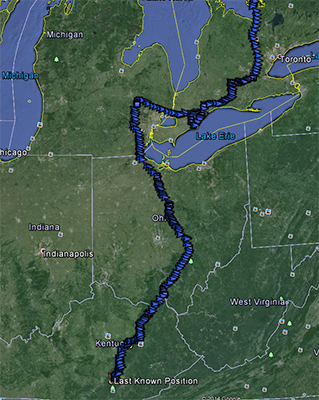 Update - 11 Nov 2014
Sand Rock went north of Detroit on 11 Nov 2014 (can you blame him?) :) Anyway, after a week or more on the north side of Lake Erie, he's made it back into the states. It'lll be interesting to see where he goes now!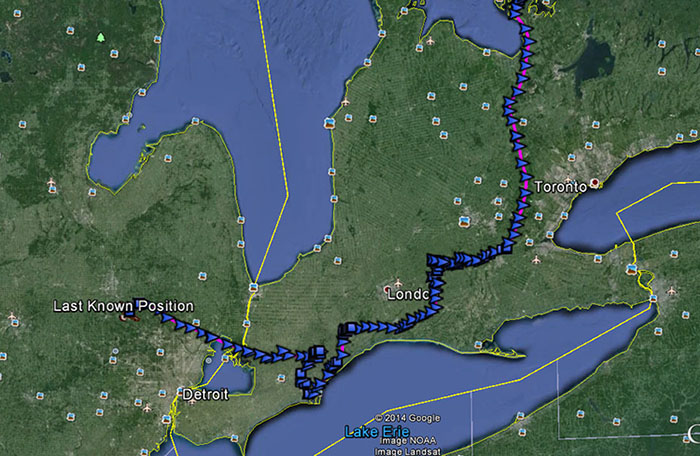 Update - 2 Nov 2014
Sand Rock is back too! He didn't seem to have a defined summer range, but wandered around a bit in the northern Ungava peninsula. He is still not of breeding age, so we expected him to wander a bit.
He has been heading about due south towards Toronto over the last few days.
Below is the full route of Sand Rock since we caught him on 5 Mar 14 (thru 2 Nov 14).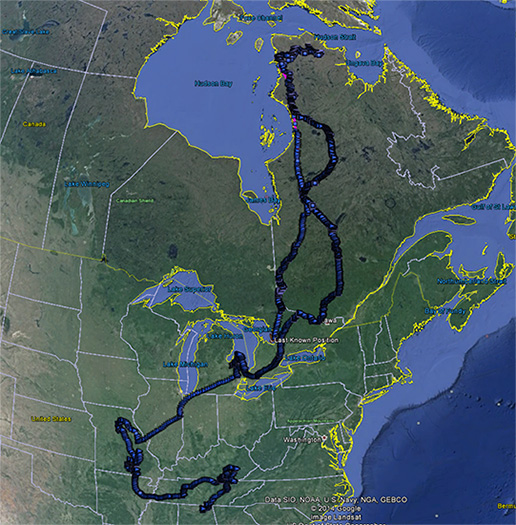 Here is his summer movements. Although you can't tell, all the movement across the northern end of the Ungava Peninsula occurred over the entire summer, meaning he didn't have a defined breeding range (and he shouldn't since he's still an immature bird).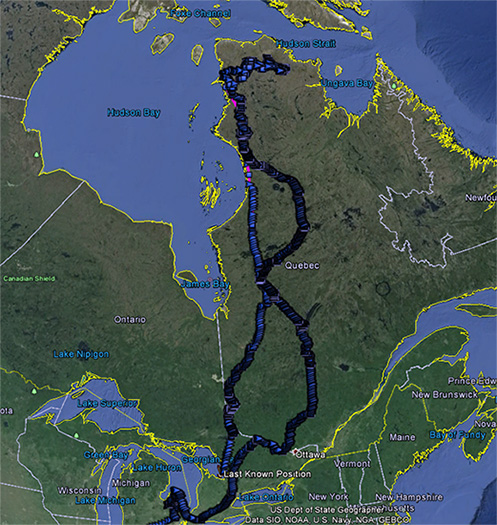 Update 20 April 2014

Sand Rock continues to be an interesting bird. He has made it into Ontario, but via Missouri and then the "thumb" of the mitten of Michigan!
See below a series of maps of his route over the last few weeks. He wandered quite a lot, especially for a 4th year bird!
Here is Sand Rock's full route from 5 Mar - 20 April 2014. The lines from SW PA are the transmitter while it was on the dash of a car on its way south for trapping!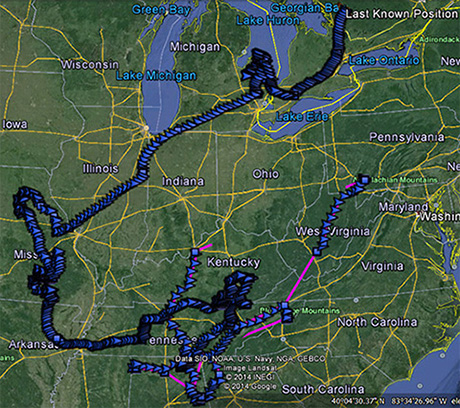 Details on the southern portion of his route. He spent quite a bit of time on and around the Mark Twain NF in SE Missouri before going to northern MO and turning back to St Louis.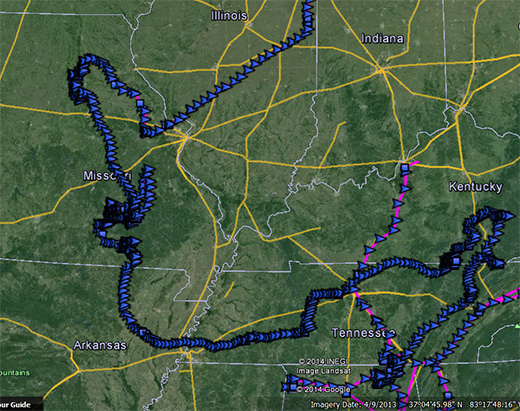 Here is the map of Sand Rock's time in the thumb of Michigan. He was here from 11-18 April 2014.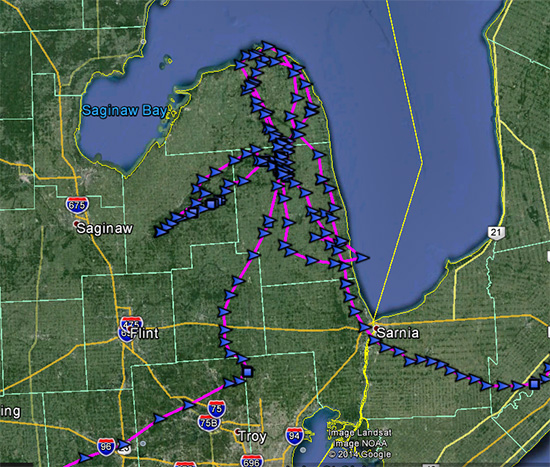 This is a zoomed in map of his time in the thumb of Michigan. Arrows are moving points, squares are stationary (including night time roosts). All the points in the northern end are arrows and he was moving quickly, often up pretty high. The concentration of points on Minden SGA and Deford SGA in the SW corner of this map (arrows aren't perfect, but close for reference) are roosting areas and where he spent a significant amount of time. This is typical of eastern Goldens as they are woodland birds!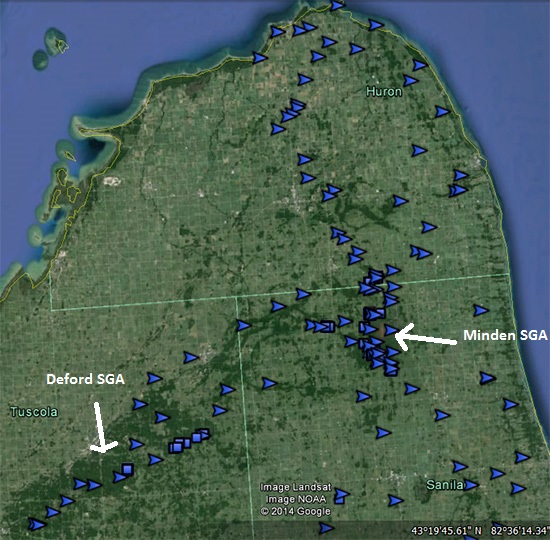 From 18-20 April 2014, Sand Rock went south along the coast of SE Michigan before going into Ontario and making rapid movements to the north and east.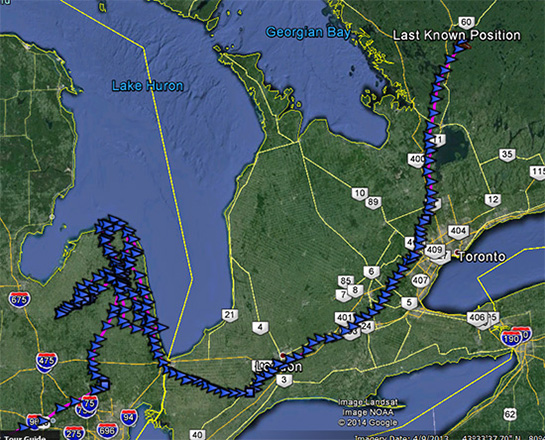 Update 23 March 2014
Sand Rock has been moving around quite a bit. Here's his full route. His last point was today, 23 March, in ARKANSAS! He flew over Nashville on the 20th, spent the night on Cheatham WMA (much like Hytop did in mid-Feb) and went south and west. He flew OVER Shelby Forest WMA today and crossed the Mississippi River into Arkansas! See below for another map with more detail.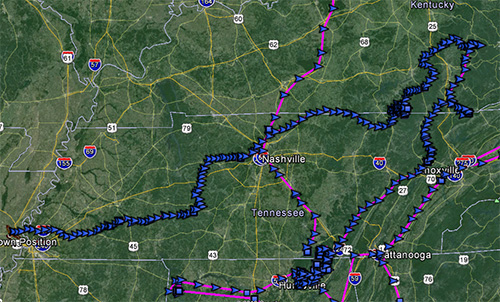 Here is a zoomed in screen grab of his route through the Nashville area (ignore the points following I-65 going north to south, these are not when the transmitter was on the bird). This is not only amazing since we got a confirmed Golden in Davidson Co., but that he jumped on that forested corridor (mostly hills) and flew over it to Cheatham WMA. He could have flown over the more open agrcultural areas, but he chose that corridor. Hytop followed a forested corridor and Sand Rock seemed to choose one as well. Definitely staying over the forest as much as he could!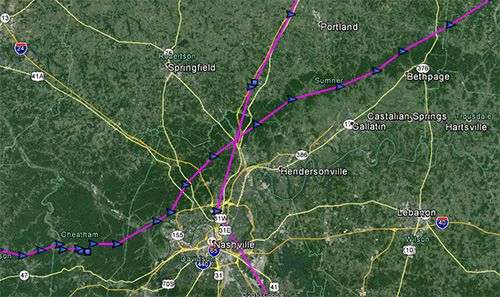 Information on Sand Rock
Sand Rock is the newest Golden Eagle to our project. He was caught on 5 March 2014 on Bear Hollw Mountain WMA in Franklin Co. Sand Rock is a 4th year male and was actually a very large male.
I don't have any photos of Sand Rock yet.
He spent a couple days after he was trapped in the Bear Hollow Mtn WMA area and in north AL, but went north and is following a similar track as Jericho (almost identical track through the plateau).
On Mar 9, he was on Frozen Head SP and N. Cumberland WMA. His route is the middle line going through Bedford, Cumberland, Morgan, and Anderson Co.