Jericho

As of 27 March 2015, Jericho hasn't checked in. She likely died on the breeding grounds.

Update - 20 April 2014

Jericho quickly went off the grid after the last update. She's been off the grid since 27 March 2014 and is likely on a breeding territory. She moved very quickly after we released her after rehab for lead poisoning! She's lucky that we caught her and got her treated, otherwise she would almost certainly have died from lead poisoning! We gave her a second chance and hopefully she'll do well this summer and raise a couple young, not that we'll ever know, but we look forward to seeing where she went for the summer upon her southward return this fall.




Here is her full route from spring 2014.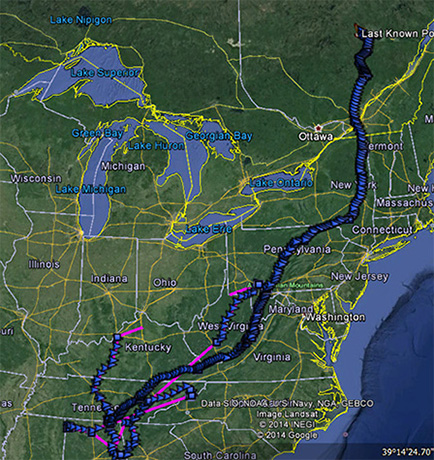 Update - 23 March 2014
She continued her migration through the Appalachian Mountains through eastern WV, dodging several wind farms. One of her GPA points was VERY close to a turbine, but she was at 1000m elevation and likely very high above them.
The long continuous line of points is her route up through eastern WV and into NE PA.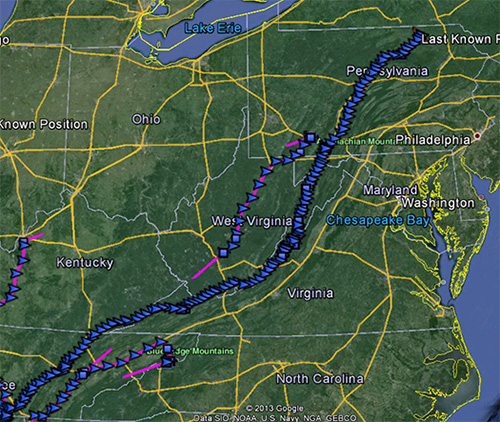 UPDATE - On 5 Mar 2014, we released Jericho about 1/4 mile from where we trapped her. Her blood lead levels were down significantly and to the point where she should be ok. The night of the 5th she roosted not far from where she was trapped and released.
After 2 days, she departed for the north and has covered a lot of ground in only a couple days. On Mar 9 she ws already in sourthern WV!! See map below - her track is is the middle line with lots of arrow markers.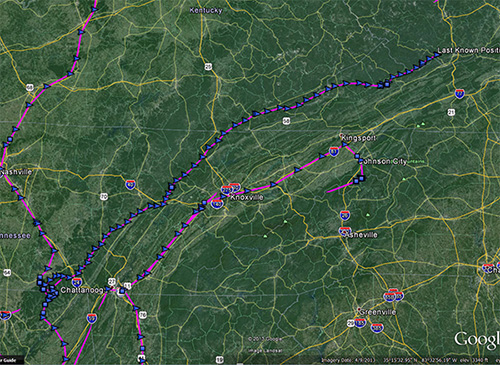 INFO on Jericho
Jericho is one of our new Golden Eagles this winter. She was caught at the same site where we caught Hytop in Feb 2013 (and Letson in Jan 2014). This site is just into north Alabama across the line from Bear Hollow Mountain WMA in Franklin Co. Tennessee. Eagles were regularly coming into this site and not on our bait site on the Tennessee side of the line.
Jericho is a big adult female and was caught on 5 Feb 2014.
**Unfortunately, she had VERY high blood levels on a field test (which is quite accurate) and permissions were obtained and she was transported to the
Mid-South Raptor Rehabilitation Center
with Knox Martin in Memphis for treatment for the lead poisoning. She should be ready for release in mid-March, which will hopefully not be too late into migration for her to get to her breeding territory (wherever that is). Either way, without treatment, she would have died from lead poisoning, so she is a very lucky girl!