Letson
Update - March 2016
Letson spent the winter months in between Chattanooga, TN and Huntsville, AL. Letson is now headed north for the breeding season.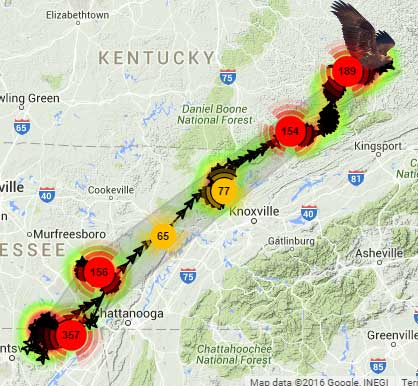 Update - December 2015
Letson spent the breeding season just northeast of Hudson Bay in Quebec, Canada. Letson has now returned to the area west of Chattanooga for the non-breeding season.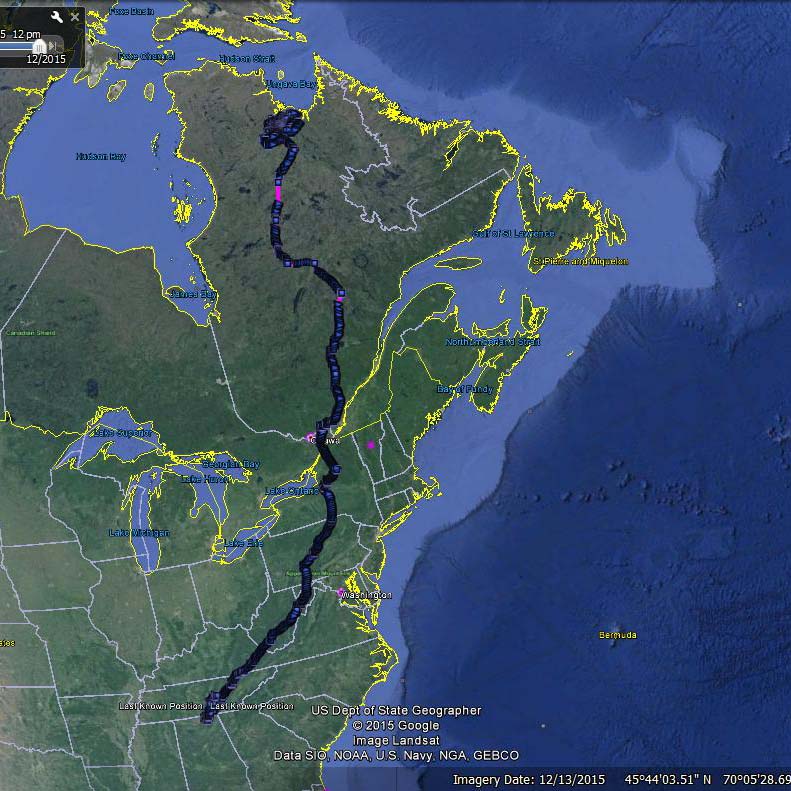 Update - 27 March 2015
Letson is on his way north, after another winter in the southern plateau of TN-AL.
Here is his full route from winter 2014-15. He went through Frozen Head SP and N Cumberland WMA (more or less) going S and N!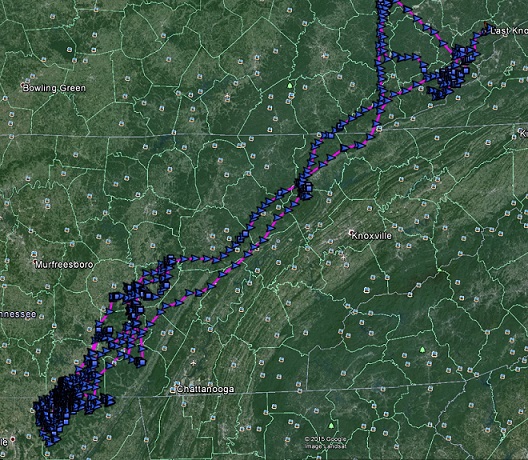 Letson never really left the forested sections of the plateau all winter (again!).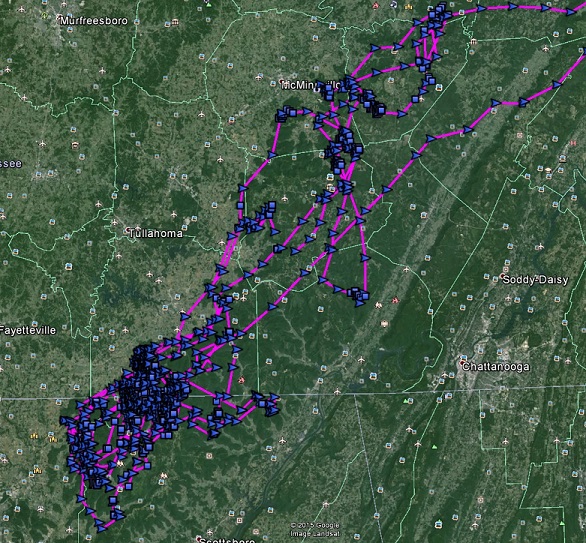 Update - 23 Jan 2015
Letson hasn't moved much since the first of the year.
Update - 4 Jan 2015
Letson hasn't checked in since the 27th of Dec, but he has been on the wintering grounds in southern Franklin Co. TN and northern AL since mid-Dec.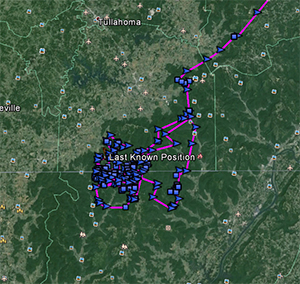 Update - 15 Dec 2014
Letson has wandered around quite a bit over the last few weeks. He spent a bunch of time in the hills above McMinnville, TN and is now back in Franklin Co. TN and northern AL where he was caught last year.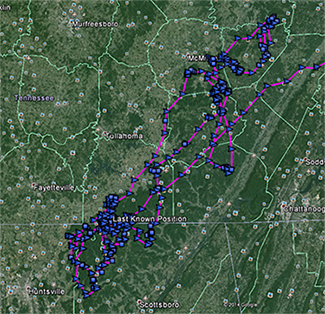 Update - 23 Nov 2014

Letson has been on the move a bit. After getting to Bear Hollow Mtn WMA in Franklin Co and wandering around a little (the cluster of points on the SW corner of the map), he took off north along the escarpment of the plateau on Saturday 22nd and was near McMinnville on the 23rd!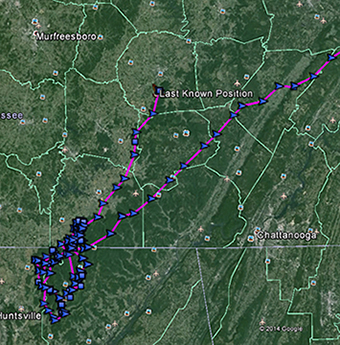 Update - 11 Nov 2014
Letson has covered a lot of ground in the last week! He's back in TN over N Cumberland WMA as of 11 Nov 14!!
This is his entire from from 15 Oct--11 Nov. He booked it fast to the Great Lakes and then lingered until Nov 7th when he moved from Detroit to TN in 4 days.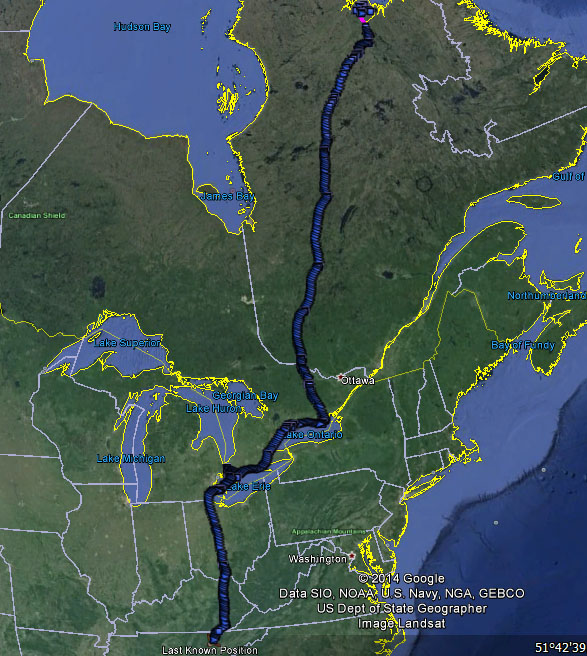 He hugged the north shore of Lake Erie quite bit, while spending a lot of time in the small woodlots scattered amongst the ag fields southwest of London ON.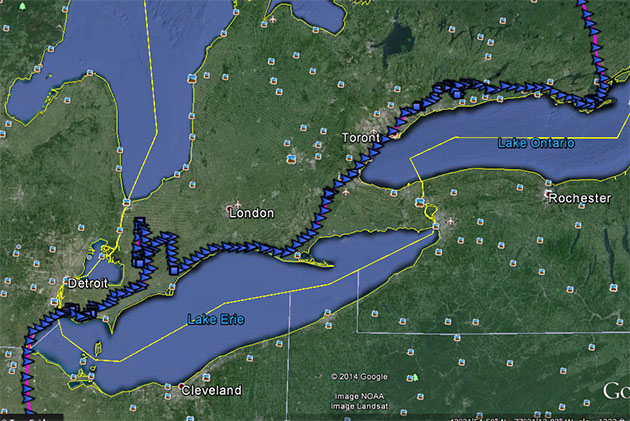 QUICK movement from Detroit on the 7th and into TN on the 11!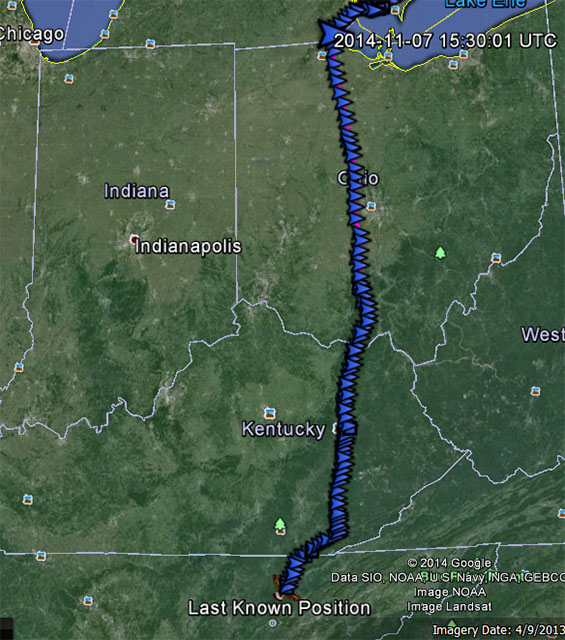 Update - 31 Oct 2014
Letson has checked in!! He checked in for the first time since April in late October. See below his track thorugh 31 Oct. He spent the summer in the very northern end of the Ungava Peninsula. He is hanging out in southern Ontario, near Toronto.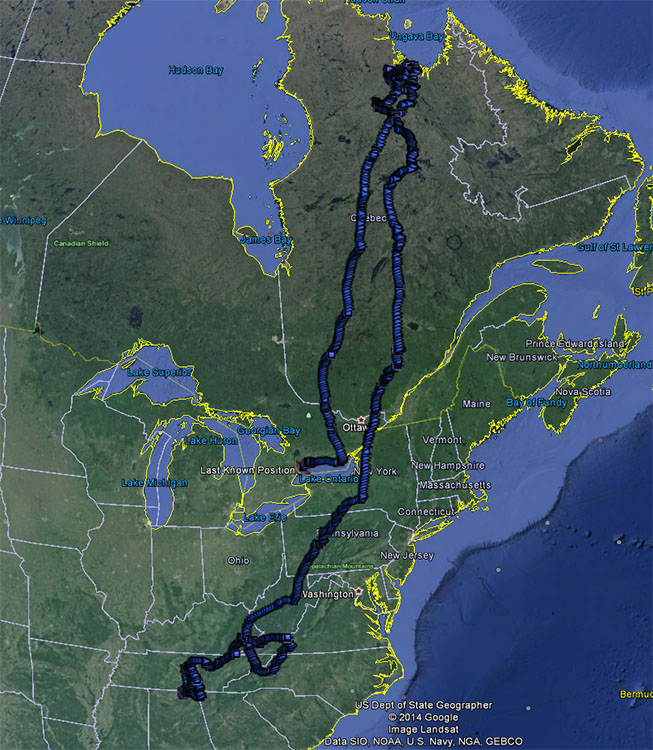 Update 20 April 2014
Letson has done quite a lot of moving since my last update! He left the southern Cumberland Plateau and wandered north towards Center Hill Lake in TN and went back and forth to rural areas southeast about 40 miles, making 2 round trips over a couple weeks. He then headed east, flying over Frozen Head State Park and N Cumberland WMA in TN before going into KY and back south into TN and western NC before looping around and finally going north.
On 17 April 2014, he was in Quebec and going north. I think he quickly went off the cellular grid and is gone for the summer.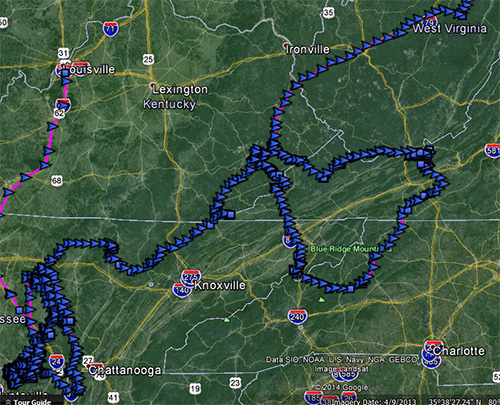 Letson's full spring 2014 route.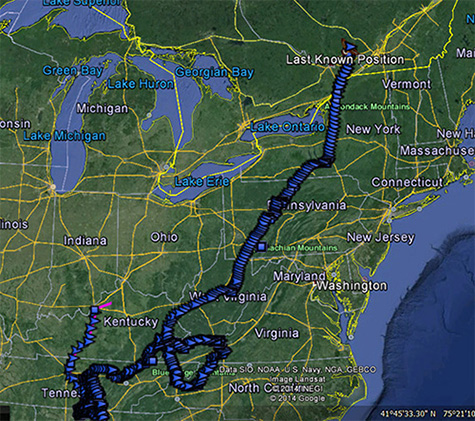 Update 23 March 2014
Letson has done some jumping around over the last couple weeks. Below is his full route to date. See maps below for more details, but he was on Frozen Head SP this morning!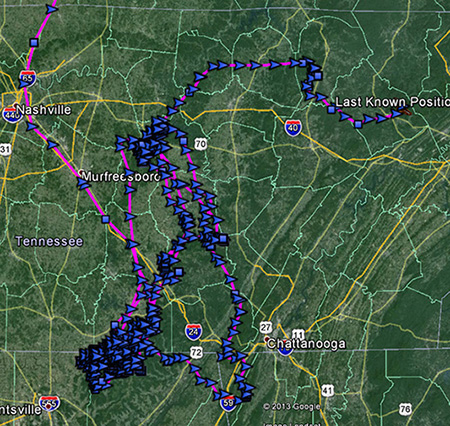 Zoomed in on above map. The cluster of points in western Dekalb Co. are the woods SW of Center Hill Dam. He went back and forth to a remote, cell service free area, of Warren and Sequatchie Co (mostly) and passed over and around McMinnville FOUR times. On the 22nd he headed east through Jackson and Overton Co and was on Frozen Head SP this morning in eastern Morgan Co. (far right of the map).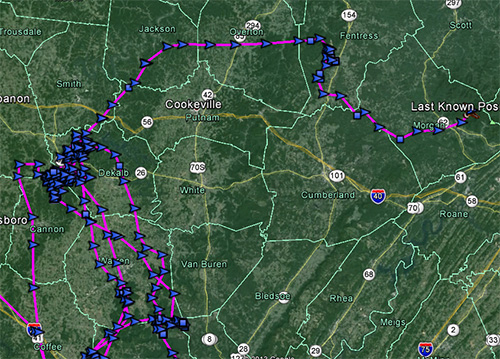 Below is Letson's locations over about 4 weeks in late February and March. The take home message with this map is that all his points are over or in the woods. This is why we don't see Golden Eagles often!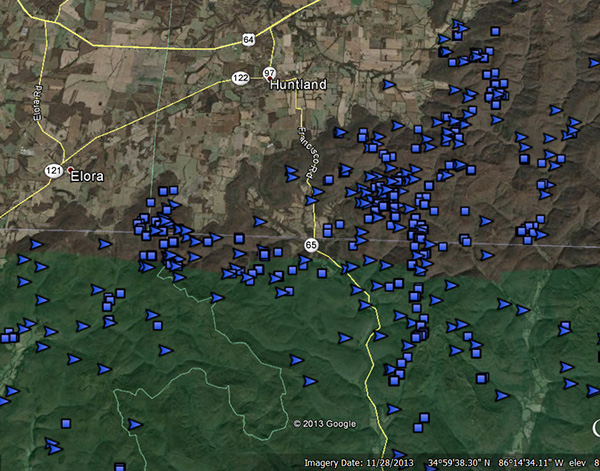 Information on Letson
Letson is one of our new Golden Eagles this winter. He was caught at the same site where we caught Hytop in Feb 2013. This site is just into north Alabama across the line from Bear Hollow Mountain WMA in Franklin Co. Tennessee. Eagles were regularly coming into this site and not on our bait site on the Tennessee side of the line.
Letson is a fourth year male when he was banded on 29 Jan 2014.
The map below shows Letson's route from 29 Jan 2014 through 20 Feb 2014. The line on the northwest side is not the movement of the bird, but rather the transmitter was on and recording/sending data when charging on the dash of a car before being put on the bird. From 17-20 Feb 2014, he did the loop north along the edge of the plateau and eastward and then south through Prentice Cooper WMA in Marion Co., TN and into north Georgia (where he spent the night of 19 Feb) before heading west back towards Skyline WMA and Bear Hollow Mountain WMA.