Hatfield Knob
Update March 2016
Hatfield Kknob has been spending the winter months in southern Kentucky and northern Tennessee the last check in for Hatfield Knob was March 8, 2016.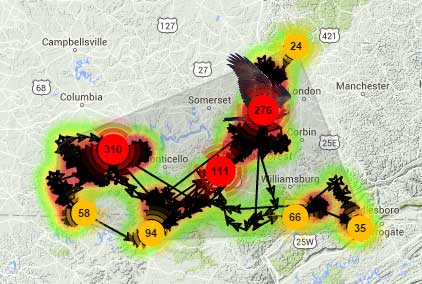 Update December 2015
Hatfield Knob spent the breeding season on the southern end of the Hudson Bay in Quebec, Canada. He has returned to the area he has previously spent the winter.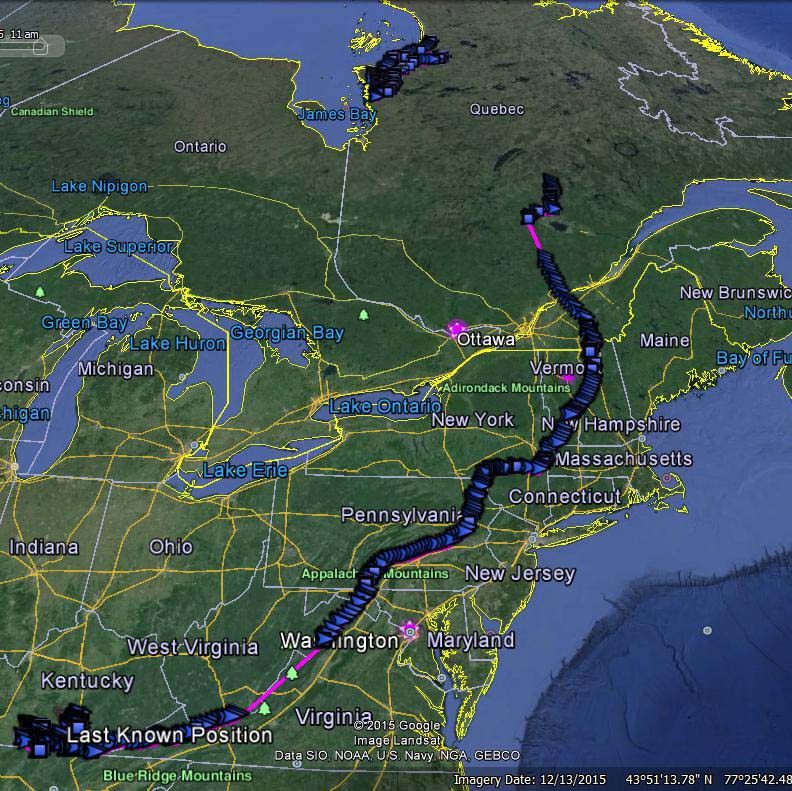 Update - 27 March 2015
Hatfield Knob is continuing to spend late winter and spring in the same area where he's wintered the last 2 years.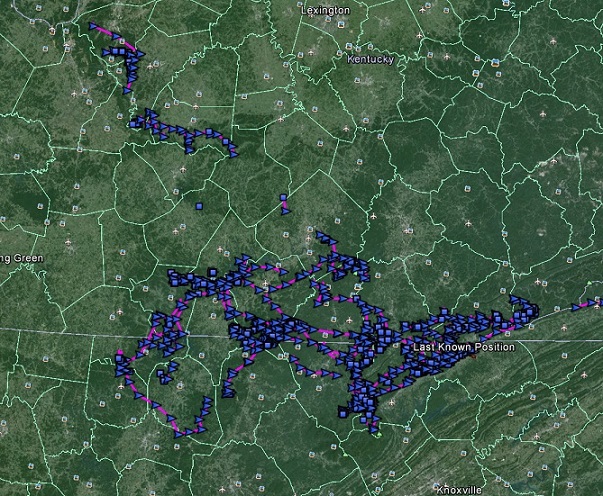 Update - 23 Jan 2015
Hatfield Knob is continuing his wandering around Kentucky and northeast Tennessee. He was up around Louisville on Jan 17-18, but is back near Dale Hollow Lake.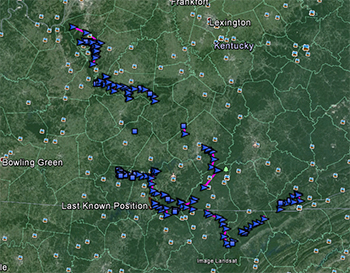 Update - 4 Jan 2015
Hatfield Knob hasn't checked in since 26 Jan. Continued long term cloud cover isn't charging transmitters and he send data spradically anyway. He was most recently back in Tennessee and wandering around his large winter territory.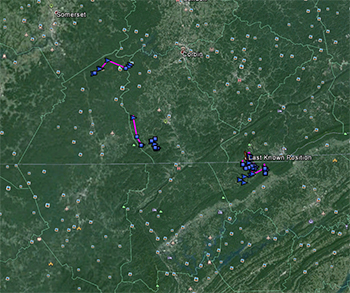 Update - 8 Dec 2014
Hatfield Knob hasn't checked in often (it's also been very cloudy and the batteries don't charge well and thus don't send data), but he's been back where he wintered the last 2 years.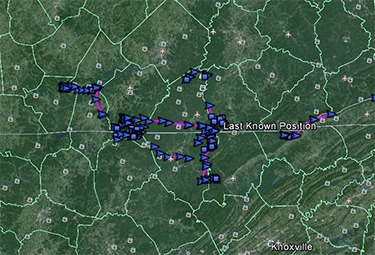 Update - 24 Nov 2014
Hatfield Knob dipped into Tennessee and is back in sourthern Kentucky on Lake Cumberland SP, which is where he spent a lot of time over the last 2 winters.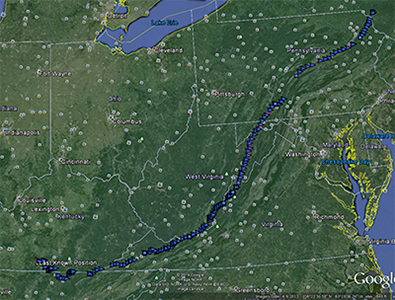 Update - 11 Nov 2014 (most recent data from Nov 9)
Hatfield Knob checked in from southern VA after 8 days on the sly! He had last checked in on the 1st in eastern PA.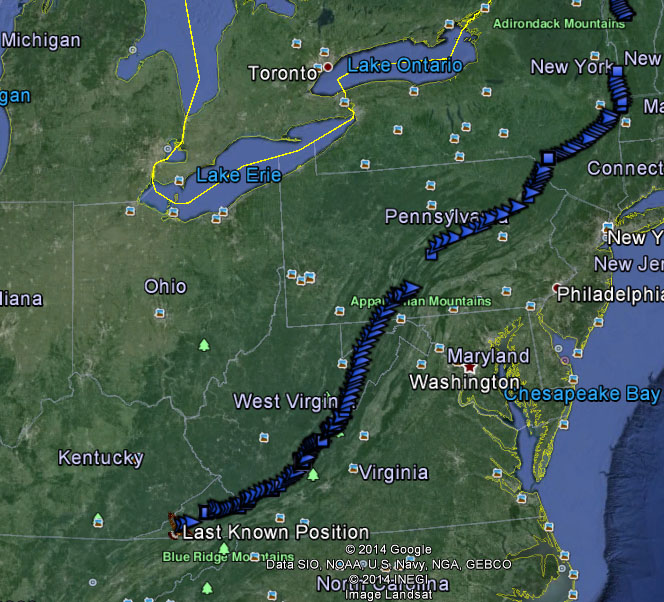 Update - 2 Nov 2014
Hatfield Knob spent summer 2014 in about the same location as in 2013. As of 1 Nov 2014, he was near Wilkes Barres, Pennsylvania. He's follwing a similar southbound route from last year. He hasn't sent all of the summer data yet, probably due to large volumes of data and low battery charge.
Summer 2014 location is the blob of points on the top of the map. On 1 Nov he checked in from NE Pennsylvania.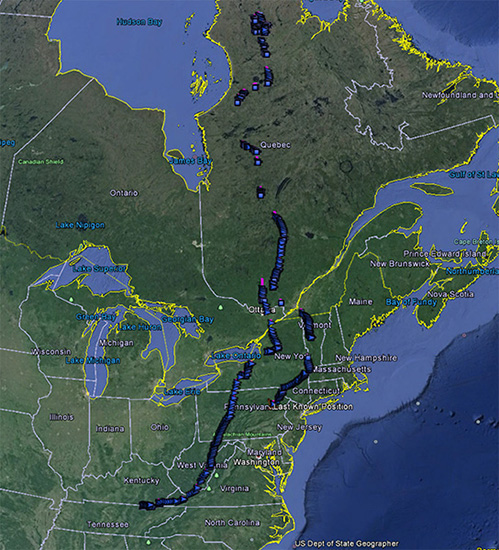 Zoomed in view of his summer 2014 area. We don't have all of his summer data yet.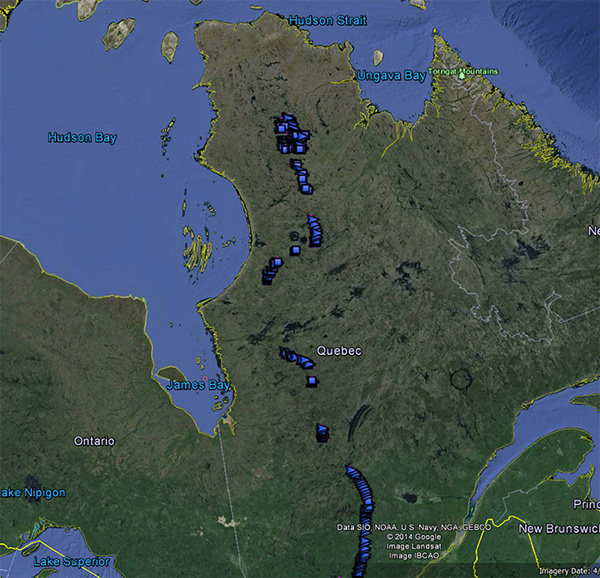 Update 20 April 2014
He hadn't moved around all that much until early April when he finally departed the large winter home range that he covers in southern KY and northcentral TN.

As of 18 April 2014 he was in central New York. He followed a similar route through western PA last spring. The route on the far right is his route from fall 2013.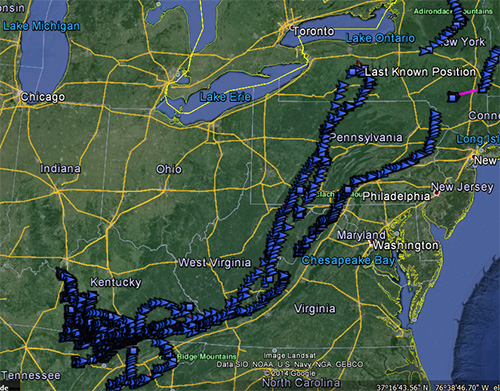 Update 23 March 2014
He hasn't checked in in a few days, but he has spent most of the last 2 weeks in the area of Lake Cumberland State Park in Kentucky. He hasn't moved around all that much.
Update 10 March 2014
Hatfield Knob hasn't moved too much within his winter range and is still around Lake Cumberland SP in Kentucky. He recently came into TN and flew around N Cumberland WMA and near where we trapped him last year.
Update 21 Feb 2014
Hatfield Knob had a very interesting fall migration route. On 29 Nov 2013, he passed right by the Hawk Mountain hawk watch site on the Kittatinny Ridge in Pennsylvania!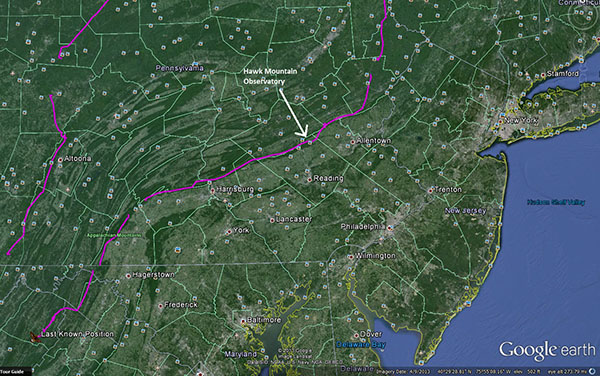 Below is Hatfield Knobs' entire route for a year. Northbound route is the western line, southbound is the more eastern line. He ended up back on the same areas where he spent last winter in southern KY and northern TN (see more below).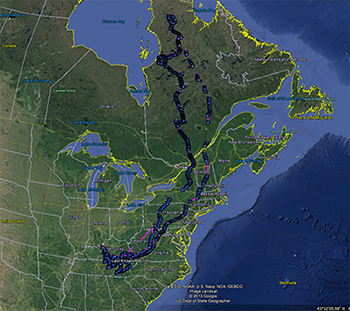 He spent most of winter 2013-14 in the same area of southern KY and northern TN where he spent Feb and March 2013. Blue markers are for both seasons combined. In late December 2013, he spent a week on Fort Knox near Louisville before returning to his core wintering area (which is large!).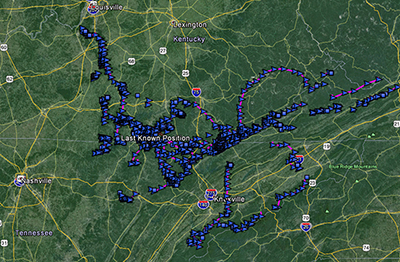 Update 22 Nov 2013! Hatfield Knob is back on the grid!
After many months off the grid and out of cell coverage, Hatfield Knob was near Quebec City, Quebec on 14 November 2013. We have not gotten all of the data from his travels since April yet*, but from April through mid-June 2013 he spent most of his time in the Ungava Peninsula in northwestern Quebec. From a detailed assessment of the location data (not shown here), he moved around quite a bit through mid-June, indicating he did not have a territory. He is only in his 3rd year and is not a breeding bird, so it is not unexpected for him to do a lot of wandering.
See below 2 maps showing the movements of Hatfield Knob through June 2013 (and his location on 14 Nov 13).

*The transmitters are solar powered and they send data to cell towers, so a combination of good cell coverage and strong battery power is required to send large volumes of data.
Hatfield Knob's locations from April through mid-June 2013, and location on 14 Nov 13.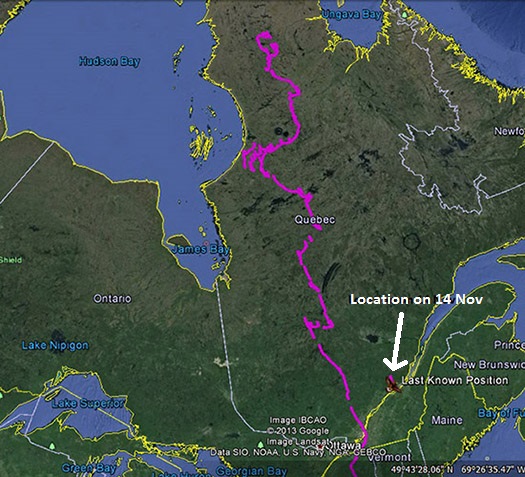 Map of entire route recorded by Hatfield Knob from February 2013 to 14 Nov 2013.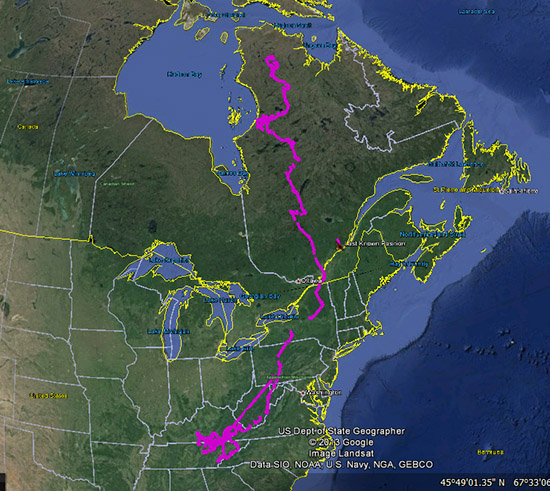 Archive on Hatfield Knob:
"Hatfield Knob " - this Golden Eagle was caught on February 5, 2013 on N Cumberland WMA, Campbell Co., Tennessee. The bird is a 3 year old male. He is actually a fairly small Golden Eagle, as far as Golden Eagles go!
Movements of "Hatfield Knob" in spring 2013 until he went "off the radar" in Canada in April 2013.
Since February 5, 2013, he has wandered widely across the Cumberland Mountains from North Cumberland WMA, through Crossville, TN, while spending a significant amount of time wandering around Cumberland Lake State Park and the Daniel Boone National Forest in southern Kentucky. In mid-March he took a trip for a couple days through eastern Tennessee, passing by Kingsport, Johnson City, down through the Smoky Mountains National Park, and then back north passing near Knoxville directly back to his usual area in southern Kentucky.
In late March, he headed north through western Virginia and into upstate New York. Our last data point (April 21, 2013) was near Montreal as he went north. Presumably he continued into Canada and has been out of cell range since.
See Google Earth Map of "Hatfield Knob's" path through April 2013.